Delta Quadrant
From Bravo Fleet Infobase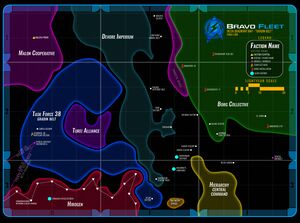 A division of the Milky Way Galaxy for astronavigation and political purposes.
Imagining the Milky Way Galaxy as a bi-dimensional structure seen from the top, divided in four squared sections centred on the galactic centre, the Delta Quadrant lays in the right-hand top side, and it's bordered to the left by the Gamma Quadrant and to the bottom by the Beta Quadrant.
Task Force 38 is assigned to exploration of The Round Table, a region within this Quadrant.
See also:
Other Quadrants: