Starbase Bravo Leisure Facilities
From Bravo Fleet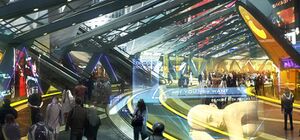 Starbase Bravo is one of the largest facilities ever built by Starfleet, home to tens of thousands of crewmembers and civilians alike. As such, its twin promenades are home to hundreds of shops, bars, restaurants, cafés, clubs, entertainment hubs, and other such venues, some of which change on a regular basis as managers come and go. While some of these are particularly well-known by those aboard, listing every single venue would take too long. The following is a partial list of some of the other most notable venues, or those favoured particularly by the junior officers of Starbase Bravo.
This article should be considered a useful reference for major locations featured by members in the Starbase Bravo sandbox.
Upper Promenade
Boasting such notable establishments as Vandorin's Bistro, Brew, Downtime, and the Gate Inn, the venues of the Upper Promenade are slightly more favoured by Starfleet guests and visitors to the station. Some other notable venues include:
Skyglow, a cocktail bar with exotic but mysteriously-named drinks of unknown provenance. The bar is lit by strands of dangling neon lights with the feel of a luminescent jungle, with seating on low stools at big, circular tables.
Lower Promenade
The Lower Promenade offers hospitality and entertainment to many of the station's civilian visitors, particularly those arriving by the nearby commercial docks. Some notable venues include:
Cozmo Coffee, a cosy café which does real coffee as well as boasting replicated fare from bespoke patterns. Cozmo's is decorated with wood panels on the floor and walls, and has slightly mismatched wooden furniture for a quirky, but welcoming feel. It is one of the nearest cafés to the commercial docks and sees hundreds of new faces coming through every day.
The Pit and Pendulum, one of the closest to a dive bar on the station. The Pit is favoured by freighter crew, particularly those from non-Federation or frontier locations, fresh aboard and looking for a drink. Its decoration has something of a gothic motif, in accordance with its name. While security officers keep an eye on the place, this is still Starbase Bravo - it is not considered rough, dangerous, or somewhere off-limits.
Other Venues
The Promenades are not the only homes to entertainment venues on board. Other sections, particularly on Kilo-India, where most of the crew are quartered, have smaller bars, restaurants, and facilities nearer to 'home.'